Samurai Champloo (サムライチャンプルー, Samurai Chanpurū?) is a Japanese anime series developed by Manglobe. It featured a production team led by director Shinichirō Watanabe, character designer Kazuto Nakazawa and mechanical designer Mahiro Maeda. Samurai Champloo was Watanabe's first directorial effort for an anime television series after the critically acclaimed Cowboy Bebop. It was broadcast in Japan on Fuji TV on May 20, 2004 and ran for twenty-six episodes until its conclusion on March 19, 2005.
The story is set during a fictional version of Japan in the Edo period with an anachronistic, predominantly hip-hop, setting.[1] It follows Mugen and Jin, two vagrant swordsmen, who are rescued from execution by Fuu, a young ditzy barmaid, who then recruits them to accompany her in her quest across Japan to find the "samurai who smells of sunflowers".
Samurai Champloo was critically acclaimed, and the series was dubbed in the English language and licensed by Geneon Entertainment (then Pioneer Entertainment) for releases in North America. Funimation Entertainment began licensing the series after Geneon ceased production of its titles. It was also licensed for English releases in the United Kingdom by MVM Films, and in Australia and New Zealand by Madman Entertainment.
Production
Edit
Samurai Champloo is considered to be an example of the popular chanbara film and television genre. Trademarks include the Edo setting, a focus on samurai or other swordsman characters, and lots of thrilling, dramatic fights.[3] Chanbara was used in the early days of Japanese cinema (when government political censorship ran high) as a way of expressing veiled social critiques.[citation needed]
The word champloo comes from the Okinawan word chanpurū (as in gōyā chanpurū, the Okinawan stir-fry dish containing bitter melon). Chanpurū, alone, simply means "to mix" or "to hash."
Main Characters
Edit
In
Samurai Champloo
there are three main characters which are
Mugen
,
Jin
, and
Fuu
.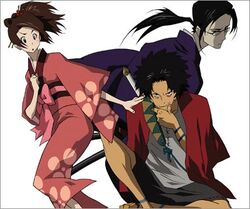 They all meet by a chance encounter in a little food shop ran by Fuu and an elderly couple. The three of them end up embarking on a journey in search of the "Sunflower Samurai".
Community content is available under
CC-BY-SA
unless otherwise noted.