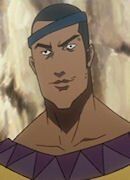 Mukuro was the main antagonist in the thirteenth episode Misguided Miscreants (Part 1) and the fourteenth episode Misguided Miscreants (Part 2) in Samurai Champloo/Anime. He is voiced by Kiyoyuki Yanada in the Japanese dub, and Guilherme Briggs in the English Dub.
History
[
]
Mugen, along with Mukuro and his stepsister Koza, were raised in the Ryukyu Islands. Unlike Mugen, whose hatred for humans was mere apathy, Mukuro became a much more nihilistic person, developing hatred for virtually everyone and everything around him. He also murdered Koza's mother so that he could manipulate her (and possibly developed sexual interest towards her). One day, Koza and Mukuro found that Mugen was being captured, and although Koza wanted to save Mugen, Mukuro held her and watched as Mugen fell down the cliff.
Following a period of time, Mukuro met Mugen, alongside Fuu and Jin. Mukuro once again convinced him to join him for one last time. Mukuro hears of a government shipment from his friend Shiren who's secretly a government mole. After slaughtering an entire village, Mukuro, along with Mugen, raid a government shipment but betrays Mugen once again, leaving him and his men to be killed using massive explosives to destroy the ship.
Unbeknownst to Mukuro and Jin, Mugen survives and is taken care of by Fuu. Mukuro makes a deal to split the money with Shiren in exchange for Shiren dating Koza. Koza then manipulates Jin into seeking revenge for Mugen. After a brief duel, Mukuro is eventually slain by Jin and before dying, Mukuro realized that he was used by Koza all along. Shiren is killed by Mugen, and since both Mukuro and Shiren were the only people to know where the treasure was, Koza is left with nothing.
Personality
[
]
Mukuro is possibly one of the most evil people in the entire series. He is jealous of Mugen because of his skill, and possibly because Koza likes him more than Mukuro. Mukuro is a manipulative individual who tricks people into getting what he wants. He is irredeemable, as shown when Mukuro didn't care who died, as well as killing Koza's mother. However, Mukuro is shown to be scared, as when Jin confronted him Mukuro started to panic. Mukuro's manipulative personality is also the reason why Koza ironically acts like Mukuro.
Trivia
[
]
Mukuro seems to not be skilled with swords or hand to hand combat, which is why he uses a gun.
It is implied that Mukuro and Koza aren't related.
It is implied that Mukuro sexually harasses Koza.