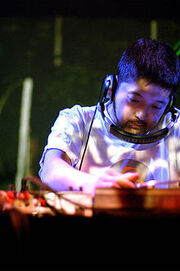 Jun Seba, more famously known under the name Nujabes, was a Japanese hip hop producer and DJ. 
Relation to Samurai Champloo
Edit
Nujabes was one of the larger contributers to the background music, as well as the soundtracks of the anime Samurai Champloo.
Songs/Composures in Episodes
Edit
The following songs/composures can be heard in the corresponding episodes (not full list):
Counting Stars - Found in episode 11 "Gamblers and Gallantry," in the last scene where Jin says his last goodbye to Shino.
Kujaku - Found in episode 03 "Hellhounds for Hire, Part 1" in the scene where Mugen and Ishimatsu first fight.