Yatsuha Imano (今野 八葉 Imano Yatsuha) is the daughter from a member of the Shogunate guard staff and a young courtesan employed in a brothel for a covert mission to break up a criminal operation counterfeiting coins with Otawa Hankichi (Yatsuha's partner). She is voiced by Noriko Hidaka in the Japanese version and voiced by Michelle Ruff in the English dub.
When she's discovered shortly after meeting Mugen, she tries to escape, but an oblivious Mugen insists on getting the services he paid for and kills her would-be assassins. Despite several attempts at either convincing Mugen to leave or knocking him out, she is unable to rid herself of him. As such, she uses the promise of sex to manipulate into fighting for her. They invade the brothel's basement were they murder the leader of the counterfeiting operation. Next morning knocks Mugen unconscious so she doesn't have to fulfil her promise, she later confesses to Otawa that she is in love with Mugen and intends to marry him.
Appearance
[
]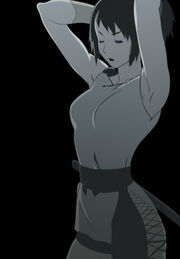 Yatsuha is an attractive young woman with neck-length black hair that she ties in a ponytail and brown eyes.
Yatsuha wears a ninja outfit; a white shirt, with purple belt and some stockings and she is always barefoot (although she has some type of sock-like covering on her feet that exposes the heel and toe areas). 
Etymology
[
]
The name Yatsuha means "eight" (八) (yatsu) and "leaf" (葉) (ha).
Yatsuha's surname Imano means "now" (今) (ima) and "field, wilderness" (野) (no). 
Trivia
[
]
Yatsuha's only appearance is in Bogus Booty.
It is implied that Yatsuha may return feelings for Mugen.
Yatsuha is also the only ninja and detective on the show.
Gallery
[
]